Yacht designers prepare for fossil-fuel-free future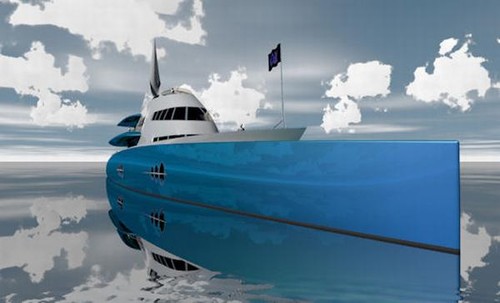 'OrganiK - the finished yacht' .
While politicians wrangle about global warming and the lobbies on both sides of the Green fence battle for the world's attention in competing and contradictory science, yacht designers at many levels and of many flags are quietly preparing for a world without fossil fuel. Here's another - this time for the superyachties.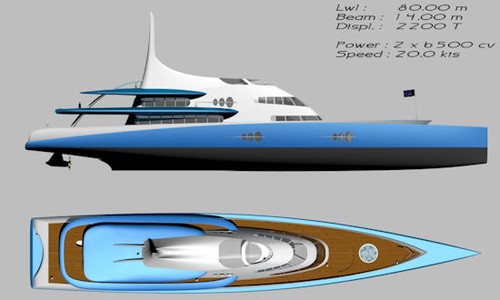 OrganiK design - .. .

SVDesign's latest offering is for the super-rich sailor with a conscience.

Named as the OrganiK, this yacht is designed to run clean on hydrogen fuel cells.

However, it still has a high and economic cruising speed due to its narrow and long hull. Two pods with electric engines propel the vessel powered by the fuel cells. Due to this technology cruising on this yacht is a silent affair.

Everything about the yacht shows thought into how to get the best result with the least energy. It presents on-board services based on eco-friendly systems, such as hot water production or air conditioning philosophy, and the Organik originates from basic elements of modern development:

It has a strong visual identity, with accommodation and layout designed for real sailing and not only mooring. Wide windows in wheelhouse cut down the need for lighting, and protected upper deck provides a good view of surrounding nature. The top fin, made of composite materials, hides all ugly antennas and radomes usually set on the top of modern yachts, keeping a smooth design for a smooth cruising yacht.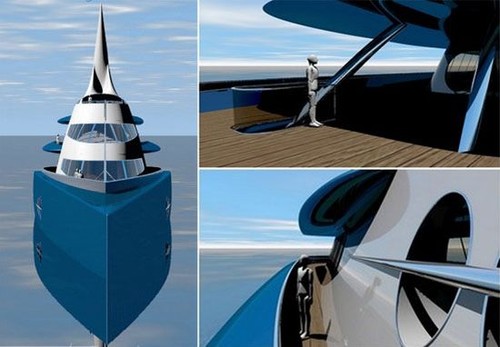 OrganiK more angles - .. .

The already mentioned long and narrow hull that allows high cruising speed with low fuel consumption is a key feature, while POD type propulsion with electric engines and power plant relying on fuel cells ensures a high efficiency. The yacht is designed to travel at 20 knots.

Housing owner suite, including cabin, private saloon and balcony, in the top deck the futuristic yacht also has a CO cabin with private office, gymnasium and private aft lounge with sun deck in the first deck, while the main deck provides space for a large saloon, dining room with galley and a cozy saloon with library and conference facilities.

It also accommodates 4 guest cabins, crew places and a garage for two tenders at the lower deck. Finished with recycled material, green composites and fibres, everything about the vessel is designed to ensure luxury sailing with minimum carbon footprint.

The OrganiK is the work of designer Sylvain Viau
by Des Ryan

Share

6:04 PM Sun 25 Apr 2010 GMT




Click here for printer friendly version
Click here to send us feedback or comments about this story.
If you want to send this story to a friend, please use link below
http://www.sail-world.com/Europe/Yacht-designers-prepare-for-fossil-fuel-free-future/68855