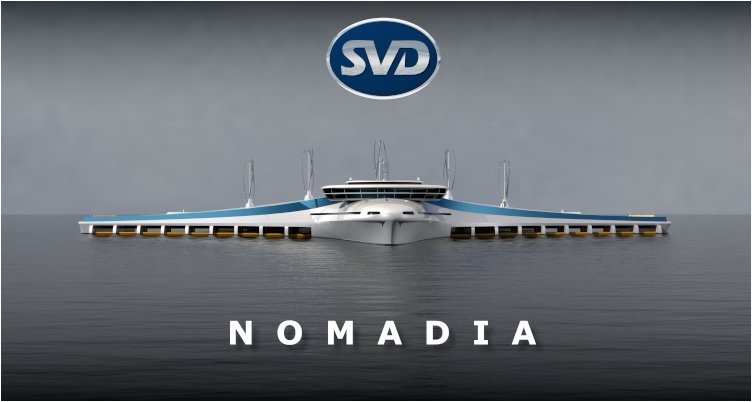 Back
HOME
Project NOMADIA, a ship becoming an island.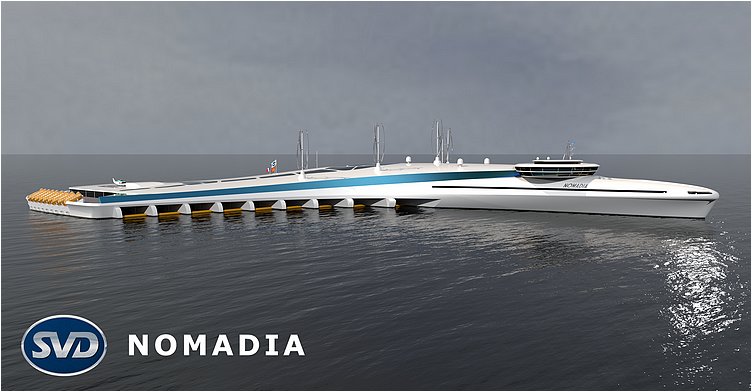 Length : 372.00m - Beam : 369.00m - Draught : 11.00m / 20.00m - Displacement : 790 000 T - Speed : 5kts
Decks : 12 - Deck area : 62 600 m²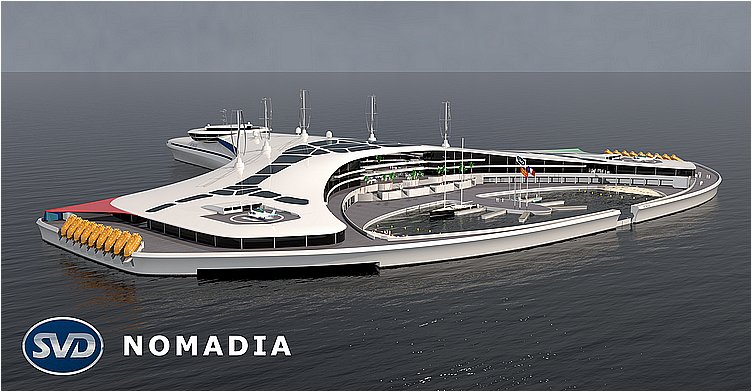 Dedicated to long periods of time moored close to a place of particular interest (history, culture, leisure, business,...), Nomadia is designed as a giant platform able to accomodate up to 3000 guests with comfort and luxury. A marina has been integrated on the aft side, able to shelter yachts, sailing boats and even leisure exploring submersibles.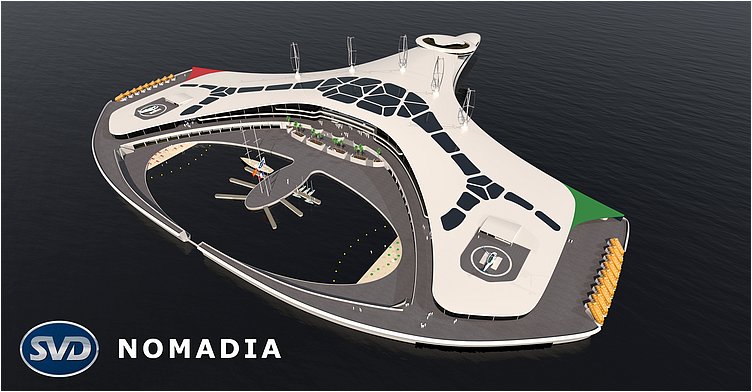 Each side of the pool, bathing areas are provided. Stairways are giving access to main deck and living places, bordered each side by long galleries with restaurants, ships and other entertainement places.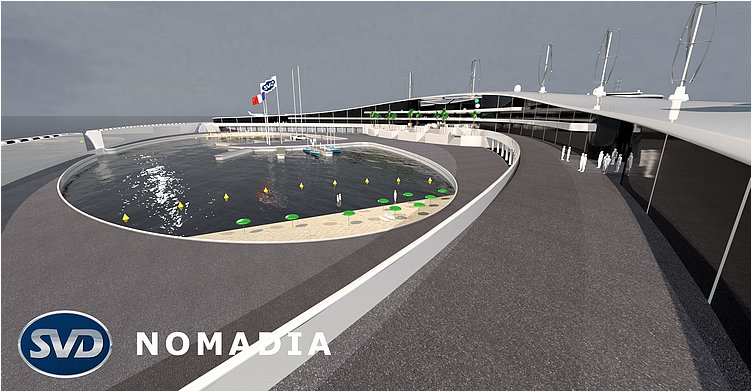 A particular aspect of this project consists in integrating a system of electric power generation from ocean swell, using floating structures into funnels, integrated into the core of Nomadia. This system will generate a part of the electric power required to live onboard during static period of time, when Nomadia is anchored. Waves are directed to generators, then dampered and directed into structural funnels and finally released aft of Nomadia.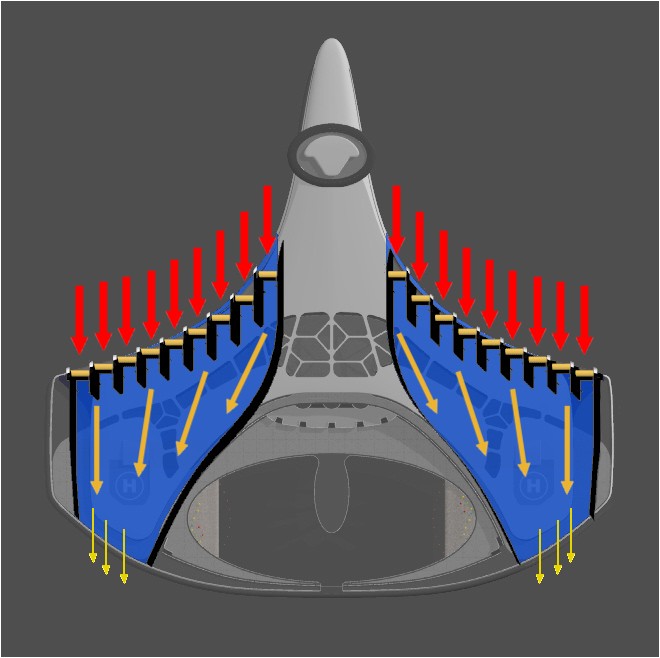 When sailing, ballasts are air bled and Nomadia is dramatically raising up, with draught reduced from 20m to 11m. Main structure becomes then easily visible, emerging above waterline. It is now possible to sail at low speed, on transit to a new interesting place. Propulsion is ensured with a set of conventionnal azimutal and retractable pods.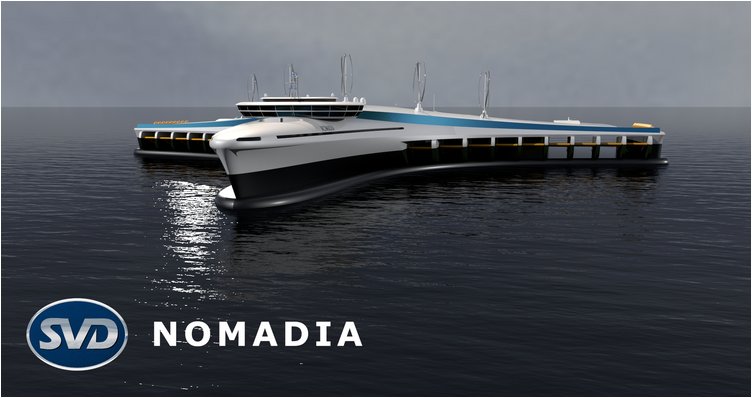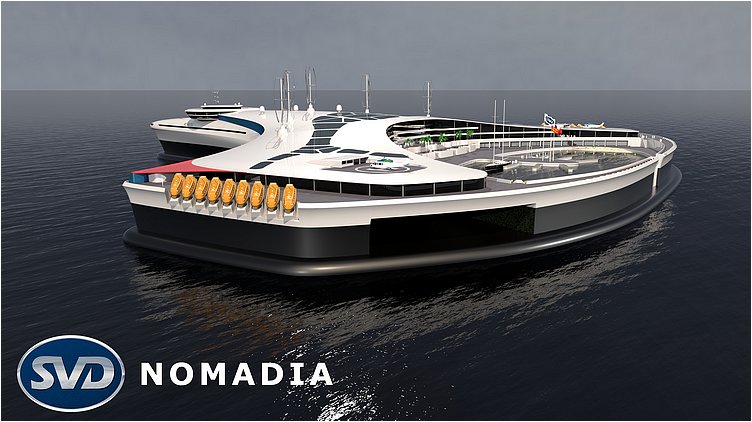 General arrangement is organized around a main covered alleyway, surrounded by accomodations places on 2 or 3 deck. A main centre place is accomodating a pool with waterfall, but should be designed on acompletely different way according to the purpose and the philosophy applied on ship.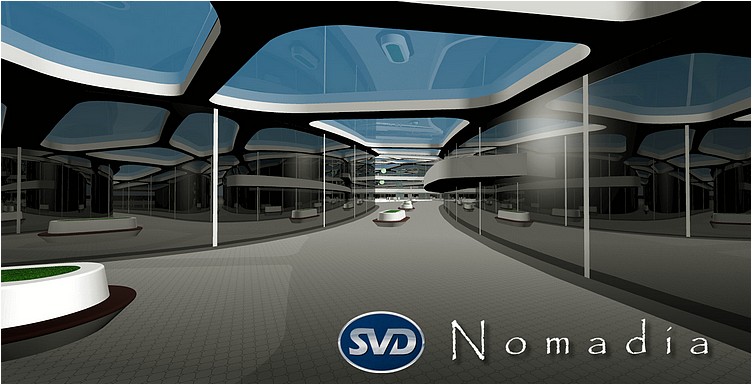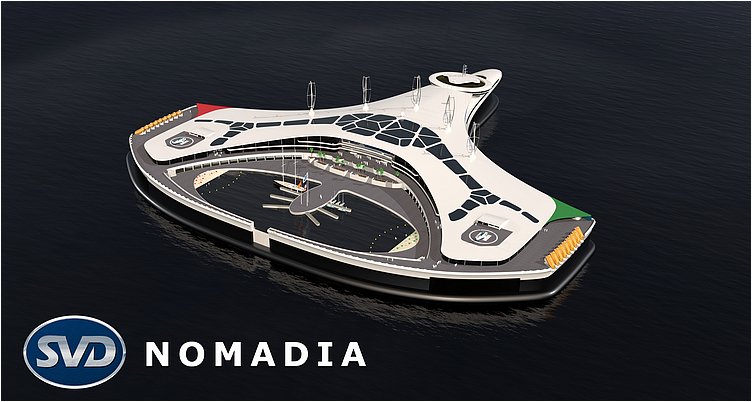 Looking forward, a big structure is overhanging the bow : wheelhouse on lower level, panoramic restaurant on mid-level, and on top an open deck area with a complete vision all of Nomadia.
.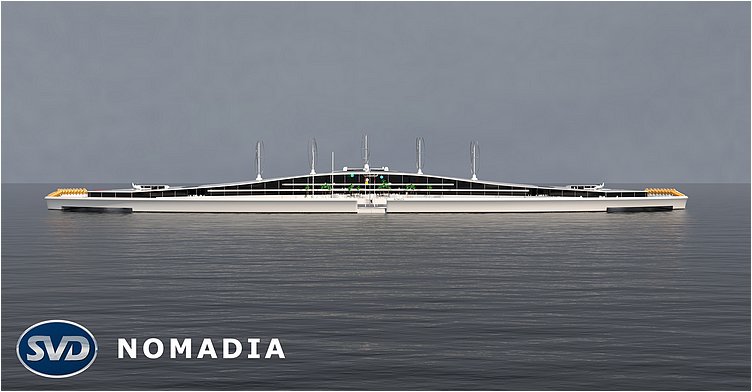 Nomadia, as she could be seen at sea, when moored. The big sailboat close to Nomadia is 30m-long ,to give an idea of real scale...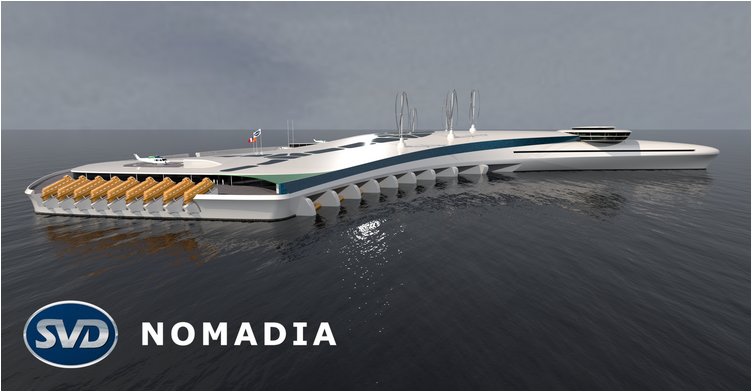 Project Nomadia is under development.
Please contact me if you are interested by the concept.

HOME
Copyright Sylvain VIAU, tous droits réservés
sylvain.viau@svdesign.fr