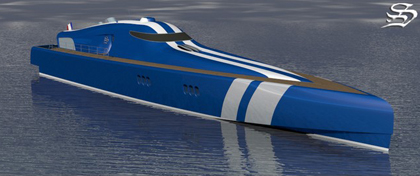 Designed by the architect and designer Sylvain Viau, who is already on the yacht "Magma", the term "Super-S" is a yacht of 60 meters dedicated to speed. Discovery!
The propulsion consists of 2 diesel engines and gas turbine high power coupled with various water permits to cross the 50 knots in speed.
The planing hull and allows a very fine smooth passage through the waves while minimizing impacts while maintaining a high cruising speed.
The facilities are minimal: a large wheelhouse welcoming passengers in seats with harness for quick crossings, a lounge opening onto the deck, and the lower deck cabins with 2 toilets, a square and a kitchen.