By Maarten Janssen
Sylvain Viau of SVDesign has provided SuperYachtTimes.com with details of a brand new concept superyacht, far removed from today's standard. OrganiK was developed using three basic principles; strong visual identity, heritage of vessels from the golden age, and an accommodation and layout designed for life at sea, instead of a life in port.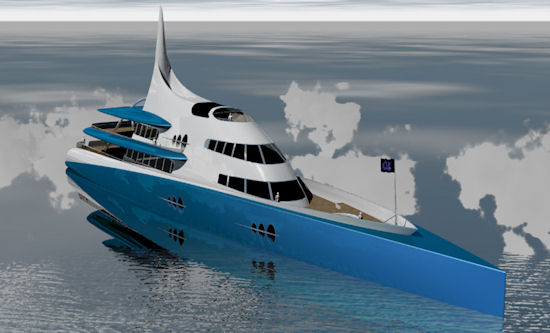 OrganiK features a long and narrow hull, which allows for relative high, yet economical cruising speed. Propulsion is by means of two pod's with electric engines, and a power plant relying on fuel cells, providing efficient and silent cruising.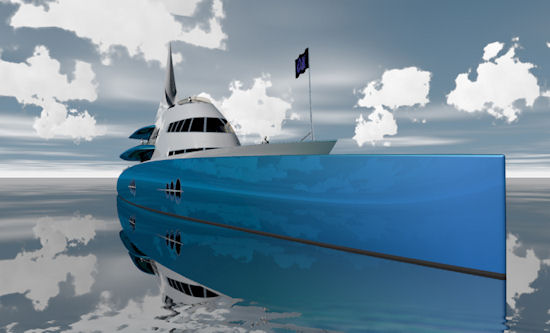 Wide windows in wheelhouse, and a well protected upper deck, provide excellent viewing points. The yacht features a private owner's apartment, which includes a private salon, bedroom and a large balcony. Her upper deck houses the wheelhouse, a guest gym, and the bridge deck lounge, which opens to a large aft deck. The main deck features a large salon, dining room, galley, and a second forward salon/library. Four guest cabins, the crew accommodation and tender garage are located on the lower deck.
Many of the on-board services, such as the hot water production and air-conditioning, are based on Ecological-friendly systems. Here again significant savings are expected by the designers, enhancing the green idea behind the concept.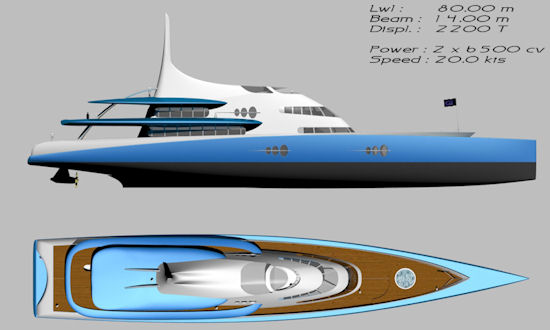 The superyacht's composite mast will hide all antennas and domes, keeping the overall design of the superyacht clean. The entire concept has been designed towards minimum carbon footprint, in both construction and use of the vessel.
SVDesign
Sylvain Viau
+33 (0)6 03 21 80 65
sylvain.viau@free.fr
http://sylvain.viau.free.fr