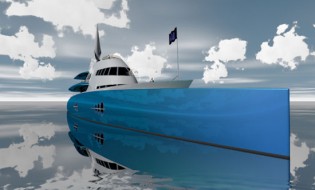 Sylvain Viau of SVDesign have come up with their brand new concept superyacht, OrganiK. The superyacht based on three basic principles of strong visual identity, heritage of vessels from the golden age, and an accommodation and layout designed for life at sea, instead of a life in port, is an unconventional yacht with an eco-friendly attitude.
Apart from being environmentally friendly, the yacht features exceptional luxurious interiors with great designs. The wheelhouse and upper deck is covered by wide windows which provide an excellent view. The yacht also features a private owner's apartment, including a private salon, bedroom and a large balcony. The upper deck of the yacht also accommodates a wheelhouse, a guest gym, and abridge deck lounge which opens to a large aft deck. Moreover, the main deck features a large salon, dining room, galley, and a second forward salon/library. Apart from this, there are four guest cabins, a separate crew accommodation and a tender garage located on the lower deck.
In order to make the yacht environmental friendly, many of the on-board services, such as the hot water production and air-conditioning, are based on Ecological-friendly systems. Moreover, the yacht features an uncluttered exterior with its composite mast hiding all antennas and domes, keeping the overall design of the superyacht clean.
For more details contact :
SVDesign
Sylvain Viau