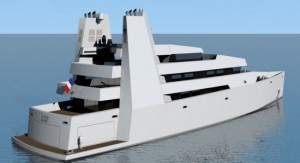 For the people seeking more luxury travel on water, the SVC Concept XXI Superyacht is an eco-friendly that is pointed to set sail in that direction. The eco-friendly yacht comes with features that include equipment such as ladders, ventilator ducts and exhausts put together for easy maintenance.

As for the eco-friendly part of this yacht, it boasts of a white colored HVAC and insulation system that was meant to handle the temperature of the whole yacht. A solar heating system is also installed at the top deck that will help provide hot water for people riding on it.
Amenities on board include the owner's suite on the main deck, along with others such as the lounge which acts as a get-together place. Other facilities include private saloon, VIP cabins, the helipad, sundeck, and also accommodation for members of staff that may be taken along.
Download our free e-book on Green Living HowTos -
Link

Email
Tags:
accommodation
,
amenities
,
helipad
,
hot water
,
hvac
,
insulation system
,
luxury travel
,
main deck
,
solar heating system
,
sundeck
,
superyacht
,
top deck
,
ventilator
If you like this post, then please subscribe to
Keetsa RSS
.
You can also subscribe by E-mail by entering your name and e-mail below:

Related News and Resources