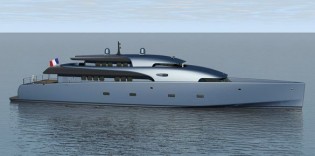 The highly acclaimed French designer Sylvain Viau of SV Designs has recently created a design of 55m Esquisse. This superyacht has a sleek profile and is distinguished from others owing to its novel eco-friendly design. This superyacht concept is one of the more conventional concepts of the designer and carries a silver hull and superstructure.
While maintaining the theme of fluidity and balancing the lines, Esquisse is a unique blend of energy saving tools and a diesel-electric plant. There is no need for heavy diesel engines as this combination eventually facilitates in generating electricity and high power when there is a need for speed. Besides using solar heaters for the purpose of sanitary hot water, it is incorporated with a highly advanced thermal insulation.
Esquisse is designed to have an owner's cabin in the front part of the main deck. There is a saloon astern main deck and top deck. Finally, the lower deck consists of VIP guest cabins and crew quarters.
Eco-friendly superyachts with bold designs remain to be the focal point of the business of SV Designs. These exceptional models consist of the remarkable 'Organik', which utilizes ecologically friendly systems for hot water production and air conditioning.