Rarely do the words organic and luxury come together as elegantly as they do with the new OrganiK yacht design from Sylvain Viau which was created with the objective of providing a high standard of comfort with eco-friendly undertones.
With extensive consideration for the yacht's carbon footprint and ecological aspects, OrganiK can reach relatively high, yet economical, cruising speeds due to the long and narrow hull. It is equipped with electric engines and a "power plant relying on fuel cells and it provides efficient and silent cruising by means of two pods."
The yacht features a private owner's apartment which includes a private salon and bedroom with a large balcony. There are exceptional views from every corner of the yacht and there is also a guest gym and the bridge deck lounge on the upper deck in addition to a large salon, dining room, gallery, four guest cabins, and a second salon/library. Crew accommodations and tender garage are located on the lower deck making the yacht "complete by all the means and standards."
In order to accommodate all of the green aspects of the concept, "many of the on-board services such as hot water production and air-conditioning are based on eco-friendly systems The concept and its designer foresee a minimum carbon footprint in both construction and use of the vessel."
OrganiK was developed using three basic principles; strong visual identity, heritage of vessels from the golden age, and an accommodation and layout designed for life at sea, instead of a life in port.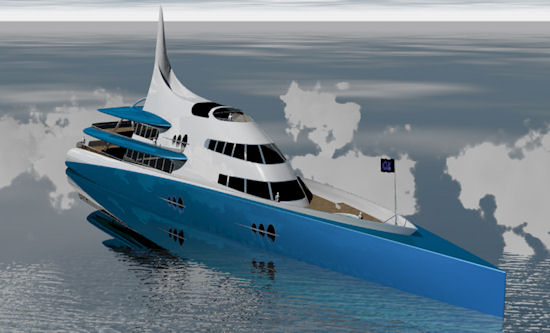 Tags:
Yachts