Cyclop Superyacht Concept by Sylvain Viau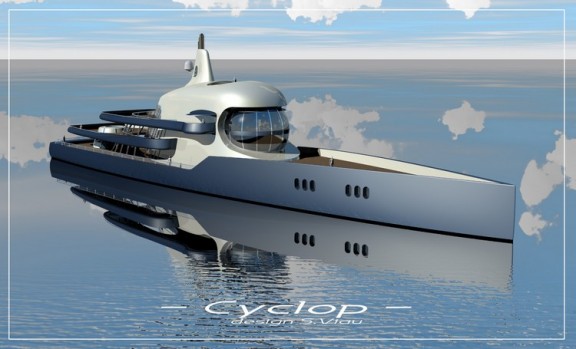 Modern architecture meets science fiction with a dash of Jules Verne in French naval architect and designer Sylvain Viau's superyacht concept, the Cyclop. The five-deck tech-filled craft is designed to accommodate a number of custom finishes and layouts within a margin of €85 million to €100 million depending on how many options one chooses. The project is one of several avant-garde yacht designs, including a speed demon dubbed the Super S, by Viau who helped develop a 70 metre light corvette missile boat for the UAE Navy.
Named for its distinctive glass orb, the Cyclop's main deck saloon with its vertical opening and wide windows houses the reception and dining areas, with natural light accruing to the atrium-like aft part of the superstructure. On the high-end options-wise, the architecture allows for the creation of a saloon across 2 or 3 deck levels; a decadent waste of space to some, for others a show-stopper. The external aft decks are supported by a nest of beams inspired by the Eiffel Tower, and Viau has also inserted a cantilevered Jacuzzi - just because he can.