SVD concept XXI superyacht breaks convention to take an eco friendly theme of comfort and luxury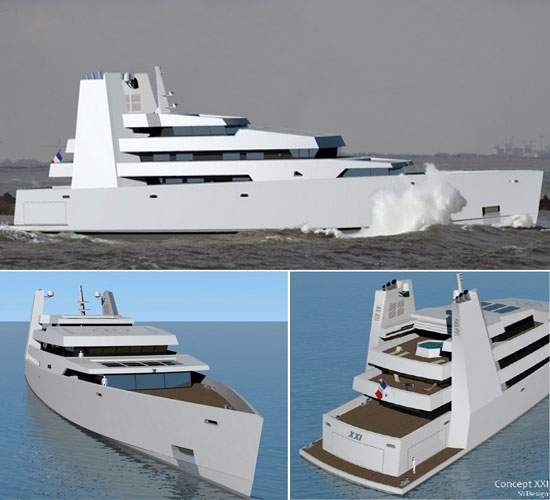 Silvain Viau Design XXI concept yacht
Silvain Viau Design XXI concept yacht, with eco-friendly features.
With the changing demands of the under-rich in terms of personalization, and unconventional options which take them away from the city life for a vacation, there have been a surge in the demand for the super yachts, which have their own unique features and comfort avenues. SV Designs has been one of those yacht makers who have made a name for their mastery of the art, which we saw in the Private Concept Yacht that brought affordability and luxury together. Their next concept design, the XXI concept yacht breaks away from the conventional yacht shapes, and also brings an eco friendly perspective to this exclusive design of a water cruiser.
Functionality and flexibility of use has been an area, which has gone into the fundamental theme of the yacht's design, which sees the side wings containing equipment such as ladders, ventilator ducts and exhausts put together for easy maintenance. Also, the yacht's internal design has been made from a similar viewpoint, thus giving a lot of liberty for customization ideas to interior designers and architects. Speaking of the eco friendly mechanisms, it includes the white colored HVAC and insulation system, which takes care of temperature control of the whole yacht. Also, there is a solar heating system installed on the top deck, which helps in heating up water for the passengers inside.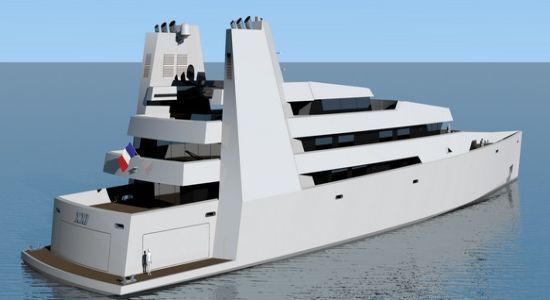 Silvain Viau Design (SV Design) XXI concept yacht
Silvain Viau Design XXI concept yacht- back view
Amenities on board include the owner's suite on the main deck, along with others such as the lounge which acts as a get-together place. Other facilities include private saloon, VIP cabins, the helipad, sundeck, and also accommodation for members of staff that may be taken along. Since this yacht is still at a conceptual stage, not much is yet known regarding the pricing of the boat or what amenities it can also provide apart from those mentioned here. But for sure, it does offer plenty of room for personalization and ideas for luxury and comfort.
Picture Gallery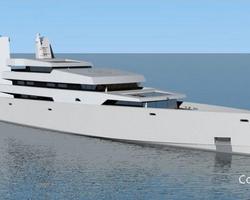 Luxury yacht concept XXI by SVDesign
Via: Live Yachting/ SV Design