March 26, 2010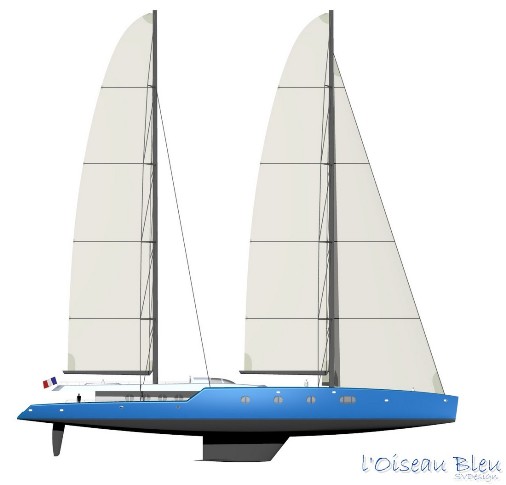 The new sail yacht design coming from Sylvain VIAU may look simple, but her design is not. The concept is called Oiseau Bleu (or Blue Bird). She's a sail yacht made for cruising. The designer states that you can spend the day pulling on the ropes with interesting sailing performances, and have a comfortable cabin and saloon for the night.
"It could present some interest in active or sport charter in the West Indies," says the designer, "and I think with sailors interested in sailing big boats with a deck arrangement close to racing maxis, but with all comfort at anchorage.
The dynamic hull design uses a deep hard chine to create a sort of hydrodynamic lift to help the ship sailing upwind.
I designed a sort of "dynamic" hull, using a deep hard chine to create a sort hydrodynamic lift to help the ship sailing upwind.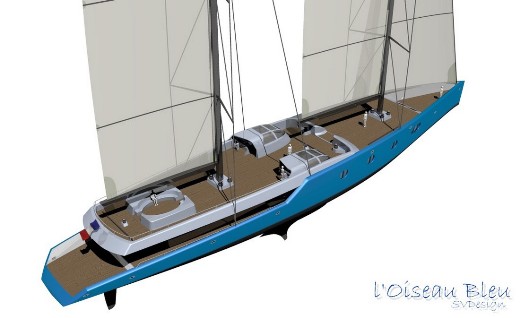 The internal arrangement is as follows :

Top deck:

* Fwd deck dedicated to anchoring purposes. Furler is fitted for genoa
* Middle deck is a sun deck. Winches and piano at mast foot
* Aft deck is for sailors : helm, winches for main sails and genoa, and at the aft a small deck saloon under the mizzen.


Main deck:

* Fwd cabin is owner's suite, with panoramic portholes on ship sides and top windows oriented fwd to give more natural lighting.
* VIP cabins can be located in the middle, with a porthole for each of them, and we can make 2 or 3 of them each side of the ship.
* Aft part is dedicated to galley and wardroom, sheltered under the superstructure.
* Aft deck can be used as sun deck and/or for storage of tender(s).
* You can reach top deck by 3 stairs : one each side giving access inside the "deck house" in front of the helms, and one at the back on portside giving direct access to deck saloon.


Lower deck - there is enought space for a lower deck, in the middle section - can be used for crew quarters and technical rooms (engine room, cold room, technical facilities, etc...).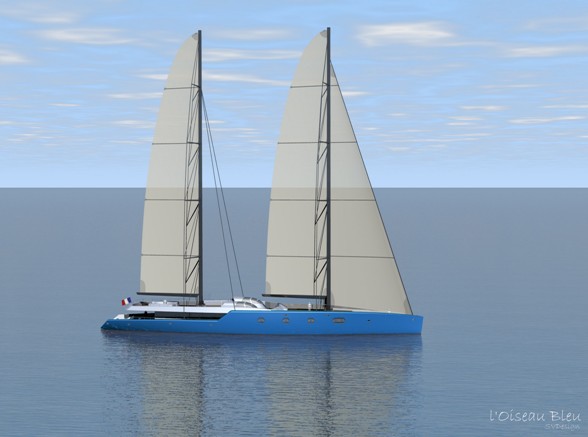 Sylvain VIAU - SVDesign
sylvain.viau@free.fr This e-mail address is being protected from spambots. You need JavaScript enabled to view it
http://sylvain.viau.free.fr
+33 (0)6 03 21 80 65